#10 ... and stocked for a while!
I said I'd be back!
This past weekend I had the good fortune to attend the ALA Midwinter conference in Chicago, IL. My mom is a school librarian, and she has the most unfortunate book-buying budget that I've ever heard of. It was wonderful to see her so excited meeting with publishers and adding new books to her collection. She was able to contribute a significant number of books for a greatly reduced price (a majority ARCs, a few legit books that she bought, and even a few donated by understanding/awesome publishers!) to a library that has pretty much only grown over the past year out of her own pocket. It was exciting for
me
as well, seeing how happy she was and that made it worth lugging a few bags full of books around Chicago :)
On to this week's book:
The Boy Next Door is a novel by Katie Van Ark. This book was handed to me by a representative for Macmillan publishing, advertising for their new imprint,
SwoonReads
. I kind of regret not picking up a copy of each of the four books they had available! SwoonReads sounds right up my alley--sitting on the Young Adult / New Adult fence, SwoonReads was described to me as the American Idol for YA/NA writers. Authors upload their manuscript to the website, readers peruse whatever they please, and through good reader feedback/ratings, books get published! Such an awesome platform!
If this sounds like your cup of tea, check out their website! Swoonreads.com.
Maybe you have a book you have been working one, or maybe you just like reading a little romance. Either way, books are getting created through a community effort. There is something beautiful in that.
Anyway, finally on to the review.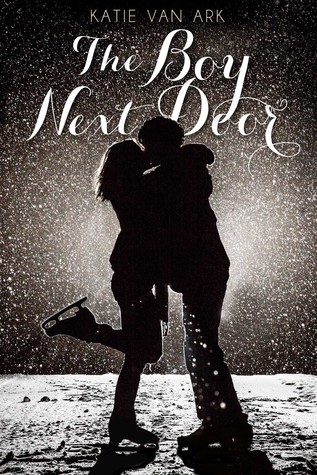 The Boy Next Door
- pages: 368
- personal copy: ARC
I don't know if any of you have seen The Cutting Edge, but if you haven't, the basic premise is that an arrogant hockey player and a prissy pairs figure skater make an unconventional pairs skating team. Sparks fly on and off the ice, and you end up with a 90s movie that is so bad it is watch-every-time-it's-on good. It has a special place in my heart.
Being so, I could not resist this book when I read the back cover. Maddy and Gabe have been best friends their whole lives. Since a very young age, they have depended on each other, not only as friends, but also as a successful pairs figure skating team. Early on, we get that Maddy has the hots for Gabe, but Gabe is your stereotypical NA man-whore and hasn't really given Maddy much serious thought. His M.O. with dating girls is "two weeks and out." This set up sounds a little bit like every cliched YA/NA book out there--but then you add the ice skating!
Maddy and Gabe, as a figure skating team, are good--exceptional, even. We follow them back and forth: practice, school, competitions, family get-togethers, and all the while they are fighting every instinct they have to be together. There is typical high school drama, but then there is also the magic of figure skating. Let's face it, if figure skating is on TV, no one in my house is changing the channel. Van Ark does a great job capturing the emotions of a competing team, as well as describing figure skating performances with beautiful detail.
Like any YA/NA novel, there is drama, there is angst, there are misunderstandings that lead to more angst. But for some reason the added element of figure skating was fresh enough that I actually enjoyed it. Maddy and Gabe's relationship was also well-defined. It didn't feel like an insta-love, no-one-out-there-but-you trope because it seemed almost like the two should be together--they've been inseparable since elementary school.
One thing of note--this book is written in alternating point of view. I typically am very leery of books with alternating PoV because so few authors make their characters' thought process unique enough (imho) that they are believable. I feel like some times it is difficult to determine who is speaking because the male character sounds just like the female lead. Not necessarily so with The Boy Next Door. Van Ark did a nice job developing her characters' voices so that the reader understands each of them and actually cares about how he or she is seeing an interpreting things.
For her debut novel, Katie Van Ark gives us a fluffy tale that is entertaining and is also a fairly quick read. If this is a good example of the kind of product that will be released by SwoonReads on a consistent basis, then I will have to give that website a much closer look in the coming months!!
Thank you, Macmillan and SwoonReads, for giving me the chance to read this ARC! I enjoyed it!