#9 ... three-and-a-half years later
Okay, I am back. Yesterday was the National Readathon day, and I spent most of it finishing up the newest mystery in the Veronica Mars book series.
I'm just going to tell you now, I absolutely love me some Veronica Mars. Of course, I was late to the party, binge-watching all three seasons of the TV show while living in Missouri for a 3-month internship just over a year ago. I consider myself to be fortunate, not having to wait the almost 10 agonizing years for the return of Veronica and the citizens of Neptune to the screen. For me, it seemed like the movie was Kickstarted, and suddenly there it was! I was living in Kentucky when the movie came out, and wouldn't you know, not one single theater in the whole state was showing that movie. I figured logistics out though, and saw it. And bought it. And it was glorious.
When I finally figured out that BOOKS were going to be involved, I got pretty darn excited. There were some loose ends that still needed tying up from the movie, and the books have certainly helped. The first book was
The Thousand-Dollar Tan Line
, which I won't be reviewing here. Instead: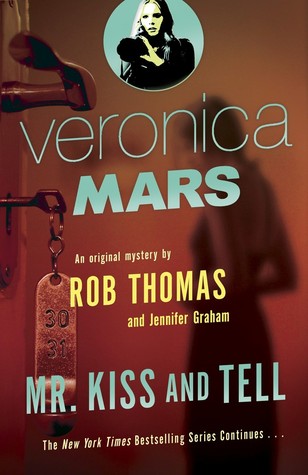 Mr. Kiss and Tell
- pages: 330
- rating: 4/5
The beauty of the Veronica Mars books is found in how true they are to the voice of the original TV show. I love my imagination, but it didn't really have to work too hard to envision each of the characters or the old Neptune haunts that were often utilized in the TV show.
In Mr. Kiss and Tell, Rob Thomas and Jennifer Graham have picked up where the movie and the first book left off and have now given us our second major plot line set in the Veronica Mars world. Neptune, California, the seedy beach town where VMars and her father Keith work as private investigators, has been shaken yet again by a heinous crime. A young woman who was found battered, assaulted, and unconscious in a field of junk claims that an illegal immigrant--who has already been deported--working at the Neptune Grand hotel assaulted her when she was leaving the hotel's rooftop bar. What starts out as an investigation into the validity of her insurance claim against the Neptune Grand turns into a major effort to track down the lowlife who committed the crime. Veronica's sleuthing efforts are realized amid the trials and tribulations of a town besmirched by a heavily corrupt sheriff's department, who not only plant evidence but also focus the majority of their efforts on harassing/arresting members of Neptune's minorities and working-class members.
I liked this book. It was, of course, not as thrilling as watching Veronica in action, but the writers (and creator of the show) really have done such an excellent job at capturing Veronica's voice. Heck, Keith, Wallace, Mac, Leo, Cliff, Weevil--they are all captured perfectly. I practically stupid-grinned my way through most of their interactions. Unfortunately, Dick Casablancas was only mentioned in passing. But beyond that, it was fun to have memories invoked of past episodes. I haven't read a great many mysteries in my day, but I find the investigative process behind Veronica solving a case fascinating. Veronica's ingenuity is a product of the authors' innovation. She and Mac make an intriguing team and honestly, there might not be anything that those two together are unable to do.
Like anything VMars related, the LoVe crazy in me was screaming NEEDS MOAR LOGAN. That was my major complaint with the first book, and while it was remedied a little bit in book 2, I have a feeling that future books will be just as lackluster in the LoVe department. Another mini-complaint is that Logan Echolls as we all know and love him is gone. The snarky, sarcastic bad boy has been replaced by an astonishingly well-grounded and responsible adult. Which, yeah, this is set nine years in the future from season 3 of the TV show, and the grown-up Logan is still swoonworthy in his own way, but a part of me misses that butterfly-inducing witty banter and non-stop sassy back-talk that Logan and Veronica had down perfectly. Skype conversations just don't do it for me, I guess. May book 3 (PLEASE let there be a book three) remedy this issue.
Those of you who don't have an intimate knowledge of the Veronica Mars TV show will miss a lot of the little nuances and allusions that make fans smirk, chuckle, or reminisce. But maybe that can be a sufficient excuse for you to marathon the TV show. ;)
To wrap up this rambling review, if you have ever seen and liked the Veronica Mars show or movie, give these books a try! The reader who comes up with the most character and case references from the orginal series wins!!!!! (Not really, but consider it a challenge)
Thanks for reading!
Think carefully about this one, guys: Team Logan, Team Leo, or Team Piz? (and don't even try to insert Duncan in there) ;)