#11 ... and still reeling
Back again, and I've gotta tell you, this book was fascinating. It has been a while since I read a book that itched at the back of my mind whenever I had to set it aside and re-join the real world. I was fortunate enough to pick it up at the ALA penguin books booth, and am so glad that it was available. This book can be purchased on February 10th! Without further ado: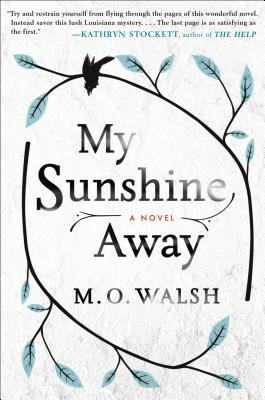 My Sunshine Away
- Pages: 320
- Rating: 4.5/5
- Personal copy: ARC
Set in late 1980s/early 90s Louisiana, this is a story about a man remembering life in a quiet, affluent area of Baton Rouge. The story centers around this man as a teenage boy, slowly piecing together the mystery of who assaulted his first crush, a 15 year old girl named Lindy. He talks the reader through bits and pieces of the assault, the background of the various suspects, the lives of his neighbors, and what it was like growing up in this subdivision in Baton Rouge. We watch this young man experience the pains of first love, devastating family tragedy, and we receive hopeful glances at his future. It was a book that I hated to put down.
This is a novel about growing up and coming of age in Baton Rouge, Louisiana. It is a story of how specific events, local or national, can shape you and direct your growth into the type of person you will someday be. It is a tale of memory, of regret, of guilt--a story of personal redemption. It may even be a warning for future generations.
M.O. Walsh's prose is almost magical. The voice is memoir-esque, and the reader half wonders if this is a real story while simultaneously questioning exactly how much she can trust the narrator. I wanted to blow through this novel page-by-page until it was finished but to also somehow savor each page individually. Unfortunately a dreadful thing called sleep (or even work) interferes.
This book evokes nostalgia for days past and sobriety when considering the awful reality of what people are truly capable. A thrilling novel that I will savor again in the future.
I will be eagerly watching for M.O. Walsh's next novel, because sir--you have a new fan.